Prueklada Rangsit Klong 4 (2) from Land & Houses

The project is situated on Lamlukka klong 4 road or Rangsit zone which are many new housing projects located.This is second project of LH in this Lamlukka area.
The smallest model: Pruek Pirun


From the observation, this project is suitable for the young family who seek the affordable price. The setting price is approxmately 2.8 - 2.9 MB for the smallest model which is appropriate for new family.

There are fully facilitated for living such as wet market, flea market, school, driving range. In addition, Tesco Lotus just opened their supermarket near by Prueklada village.
Swimming pool


The transportation system is good. The network included Rangsit Nakornnayok, Ring road and underconstruction express way. You can either use Saimai and Watchacharaphon as shortcut.

The house itself is precasted. The remodelling is recommended to consult with the project engineer or experienced contractor.

Prueklada landshape is narrow long. The later, the deeper. Most of houses face either north or south.

There are 500 houses in the project. This is a medium sized village.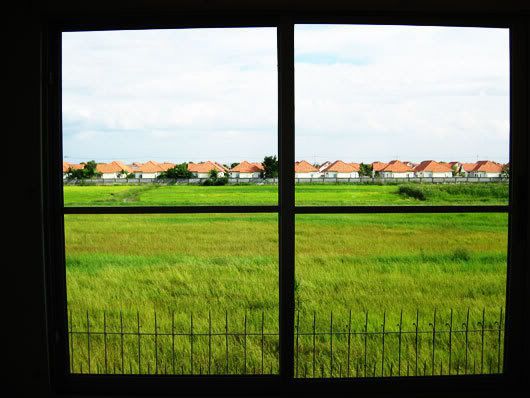 Rice field


What i like most
Good sales woman




Community location




Good price but higher than other village in this area




What i dislike
Precast



High voltage pole in the village